When Mark Stewart and The Pop Group recorded We Are All Prostitutes at the dawn of Margaret Thatcher's first term of office, they probably didn't imagine that it would form the central plot device of a prime-time BBC1 drama nearly thirty years later.

In fact they'd have been lucky to get a mention on The Old Grey Whistle Test at the time.

However, the climate at the Beeb (and in Britain as a whole) has changed so dramatically in the intervening thirty years, and post-punk been assimilated so completely into the canon of popular culture, that this is indeed what transpired on last week's

Ashes To Ashes

.
The second episode of the series, set (diegetically, at least) in the early eighties, revolves around a spotty and disaffected teenager in London's soon-to-be-gentrified East End, who turns out to be so enamoured of The Pop Group's anti-establishment musings that,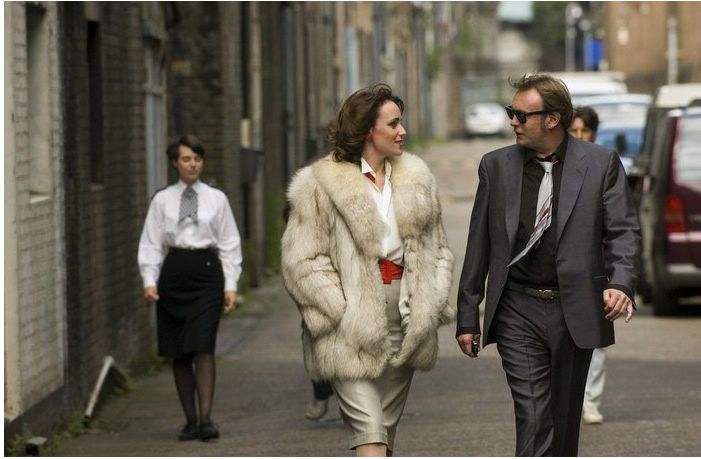 rather than forming an amateurish white funk group as most of us might have done, straps a bomb to himself and helps to hasten Rupert Murdoch's hegemony in Wapping (hey, diegesis and hegemony in the same paragraph. This 1981 thing is really catching!). Prior to this denoument (OK, I'll stop it now), he uses lettering from a Pop Group poster to create an anonymous ransom note, and Alex Drake, the detective leading the case, is seen waving a copy of the 7 inch single of Prostitutes at an interrogation scene and quoting the lyrics of said single to the befuddled villain (and how delicious was it to hear that cut-glass accent intoning " Everyone has their price/And you too will learn to live the lie/Aggression/Competition/Ambition"?)A snatch of the song is also heard during the episode. At the time of writing, the episode is still available (to those in the UK, at least) on the BBC's iPlayer.
If you didn't see it, you should.
As well as it being exceptionally entertaining and well-written (with multiple laugh-out-loud moments), I'm heartened that Ashes to Ashes doesn't just go down the lazy and clichéd route of many 80s-themed dramas, i.e. having lots of references to Adam Ant, Bucks Fizz and leg warmers. It does have these, of course, just as it features an Audi Quattro as Gene Hunt's car of choice. I mean, it would be remiss not to laugh at some of the excesses of the decade. But credit where it's due, the writers show us that it wasn't all Toni Basil and Kim Wilde, and in this episode got to grips with some of the economic, political and, yes, musical stories that fall outside the Channel 4-style "I Love the 80s" cultural purview.
It's doubtful that the Pop Group will feature so heavily in any other high-profile TV slots (though For How Much Longer Will We Tolerate Mass Murder could conceivably soundtrack a John Pilger documentary), so enjoy this while you can. If you can't see the episode in question (and even if you can), you can hear the whole of the single that informs the premise of the episode below.
Download We Are All Prostitutes by The Pop Group (mp3) (deleted May 2008)