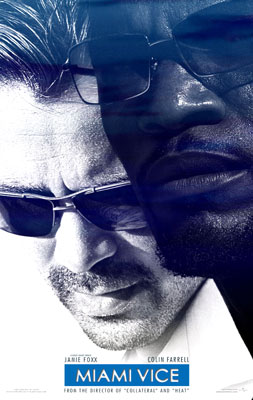 Apologies for the absence. We've been out having fun, and one of the funnest things you can do when your kids are away with grandma is go to the flicks, right? Our quarterly treat came last week in the form of a visit to the excellent
Cameo Cinema
to see Michael Mann's latest. To say I was psyched would be an understatement, though after three months away from the big screen even Adam Sandler would have seemed like Godard. Happily, all the
Michael Mann
elements were present and correct.
Total lack of humour--check (how awful would this have been with constant references to espadrilles and rolled-up sleeves, and an "ironic" cameo by Don Johnson and Philip Micahel Thomas?).
Inaudible dialogue--check.
Barely comprehensible plot--check.
Incredible, Citizen Kane-esque depth of field--check.
Attention to compositional detail--check.
Stunning set-pieces (the aircraft disappearing from the radar, the shoot-out in the trailer)--check.
Casual ultra-violence--check.
First-rate soundtrack--check
In fact, the soundtrack of any Mann film (or TV series for that matter) is one of the main reasons for seeing it. From Shriekback in
Manhunter
to Mogwai, Moby and Goldfrapp in Miami Vice, the director has always opted for interesting music (regularly working with Lisa Gerrard of Dead Can Dance, for example). Hell, he's even managed to make Phil Collins sound cool in the past.
Heat
, his greatest achievement IMHO, also has the most diverse soundtrack. Few directors could pull off a heist movie with a largely ambient score, but Mann delivers. The CD is well worth seeking out, and it features Einsturzende Neubauten, Moby, Passengers, the Kronos Quartet, and the aforementioned Lisa Gerrard (William Orbit appears on the film soundtrack but didn't make the cut for the CD). However, two of the highlightsof this disc are presented below, a fantastic Michael Brook guitar piece,
Ultramarine
, and Brian Eno's
Force Marker
, used to score the bank robbery in Heat, an incredible sequence, and for my money right up there with parts of
Battleship Potemkin
. "Check it out, yo" as Barry Norman never said.
Download
Ultarmarine
by Michael Brook (deleted Feb 2007--sorry!)
Download
Force Marker
by Brian Eno (deleted Feb 2007--sorry!)